News
This section will keep you up to date with the latest happenings in the world of East Anglian orienteering.
Entries to show: all recent
Nov 06 Apr 07 Jun 07 Dec 07 Dec 08 Mar 09 May 09 Jul 09 Sep 09 Oct 09 Dec 09 Jan 10 Feb 10 Mar 10 Jul 10 Apr 11 Jun 11 Oct 11 Nov 11 Dec 11 Apr 12 May 12 Jun 12 Jul 12 Aug 12 Sep 12 Oct 12 Jul 13 Aug 13 Sep 13 May 14 Jul 14 Jul 15 Aug 15 Nov 15 Jul 16 Jul 17 Dec 18 Jul 19 Feb 21 Jun 21
1st June 2021: 2021 AGM
The EAOA AGM will take place online on Wednesday 30th June at 7.30. Please contact your EAOA Committee representative for the url and password for the meeting. The Minutes of the 2019 AGM are available here. Please contact the EAOA Secretary with any items you wish to raise at the AGM.
18th February 2021: Let's (socially) dist again
Read Peter Wood's (WAOC) article describing how WAOC was able to adapt their event organisation in line with British Orienteering's guidelines, to allow their events to proceed safely and meet the legal social distancing regulations then in place. In addition to the technical aspects, the organisers needed to consider questions which don't normally arise, around who gets to come to the event, given demand was likely to greatly exceed capacity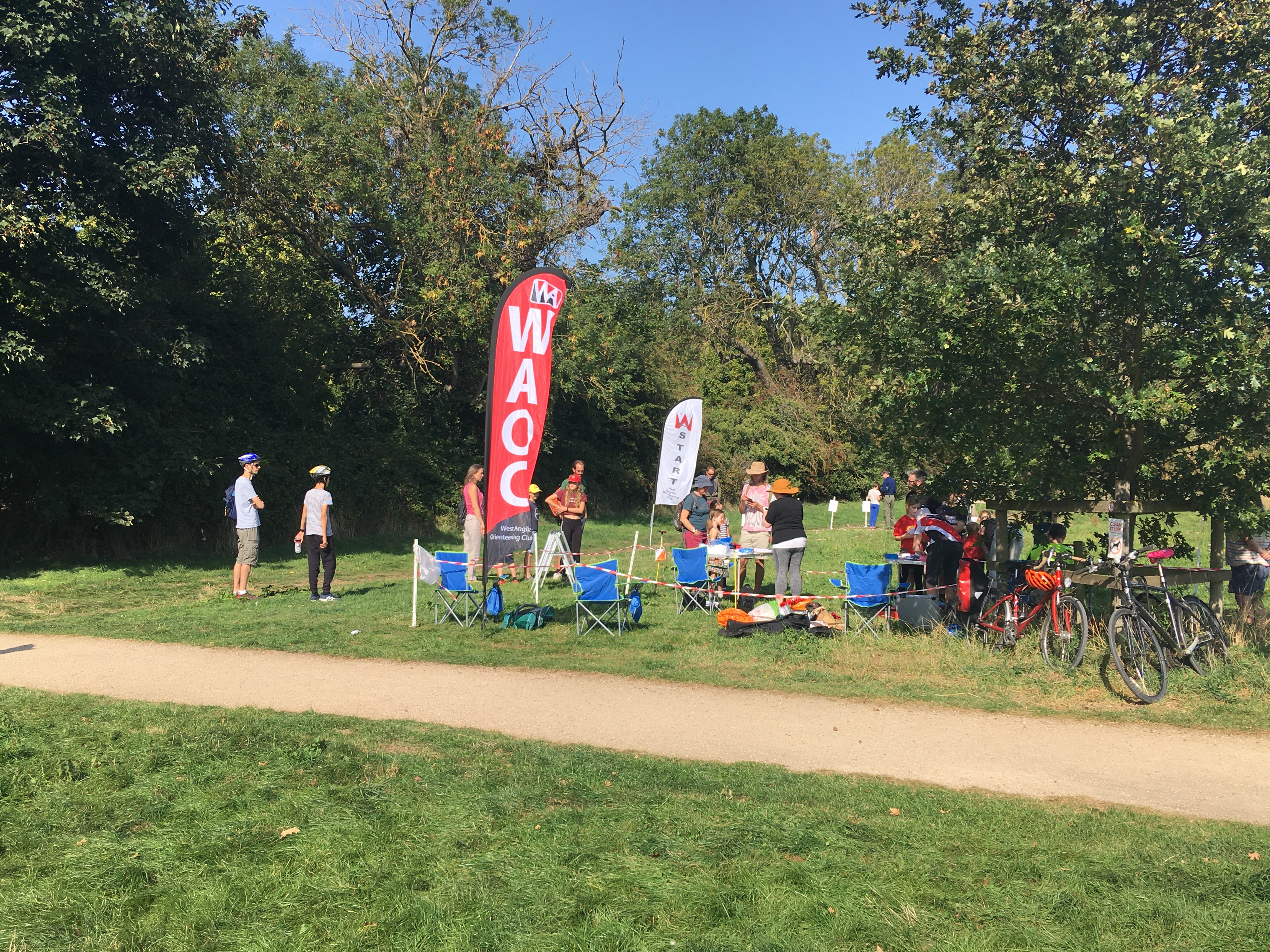 14th July 2019: Yvette Baker Final 2019
Congratulations to Essex Stragglers, whose junior team have won the Yvette Baker Shield for 2019. They competed against teams from Mole Valley, Pendle Forest, Harlequins and Lincoln Orienteering Group at the national final, which was organised by EAOA and held at Sandringham Country Park on 7th July.
This is the first time an East Anglian club has won the YB shield, which has been introduced into the Yvette Baker competition for smaller clubs, in addition to the original Yvette Baker Trophy. As well as the shield teams, there were ten clubs at Sandringham competing for the trophy, including a team from WAOC. The trophy was won by juniors from South Yorkshire orienteers, with Southdowns Orienteers second and Happy Herts in third place.
The event was planned by Paul Beckett of HAVOC, and the organiser was Peter Woods of WAOC. The on-the-day team included helpers from NOR, WAOC and HAVOC with download operated by SUFFOC. Sarah Mansel of SUFFOC, as YBTS coordinator, liaised with the various clubs as they prepared their teams for entry in the final. We are grateful to the controller, Andrew Evans of DFOK, for his assistance in making the event a success, especially given the long distance to Sandringham from his home territory.
Full results and links to photos can be found on the WAOC website.
Photos by Will Heap and Robert Lines respectively
5th December 2018: Courses for 2019
Controller's Courses
Next March, we are planning to provide on one-day courses for Level C and Level B controllers respectively. The Level C course, to be held on Saturday 9th March, will give attendees the qualification needed to apply to BO to be a recognised Level C controller (You will also need to have requisite experience of planning and organising Level C events to become a controller). The Level B course, to be held on Saturday 30th March, is intended for Level C controllers to allow them to become Level B controllers.
These courses will both be run by Michael Chopping of NOR and Keith Downing of SMOC. Both courses are open to attendees from other regions subject to places being available. At the time of posting, places are available on both courses. If you are interested in attending and have not already contacted us, please let us know by contacting your EAOA rep or anyone on the committee.
UKCC Level 2 Certificate in Coaching Orienteering
On Saturday 2nd March and Saturday 9th March there will be a Level 2 Course (with a further assessment day on 23rd March) for those of you who would like to gain the qualification in Coaching Orienteering. The course will take place at Wandlebury Country Park near Cambridge.
The cost of the course will be £450 to £500 depending on the number of participants. The EAOA and your clubs may be able to support this providing you are willing to undertake coaching for the region's juniors.
If you wish to participate in the course, please contact Caroline Louth at equipment@waoc.org.uk and she will send you further details and a registration form. Initial expressions of interest by 15th December please with firm commitments by 2nd January - British Orienteering have a long lead-time to order resource packs for the course.
Again, there may be spaces available for candidates from outside the region.
9th July 2017: Bill Stevens Trophy 2017
Congratulations go to Andrew Elliott of SUFFOC who was presented with the Bill Stevens Trophy.
This trophy is awarded annually to someone who has contributed greatly to orienteering in East Anglia, often by working in the background, & Andrew has been the EAOA treasurer for some time.
Site maintained by Helen Nisbet on behalf of EAOA. Page last updated on 1st June 2021 at 3:44pm