News
This section will keep you up to date with the latest happenings in the world of East Anglian orienteering.
Entries to show: all recent
Nov 06 Apr 07 Jun 07 Dec 07 Dec 08 Mar 09 May 09 Jul 09 Sep 09 Oct 09 Dec 09 Jan 10 Feb 10 Mar 10 Jul 10 Apr 11 Jun 11 Oct 11 Nov 11 Dec 11 Apr 12 May 12 Jun 12 Jul 12 Aug 12 Sep 12 Oct 12 Jul 13 Aug 13 Sep 13 May 14 Jul 14 Jul 15 Aug 15 Nov 15 Jul 16 Jul 17
24th July 2017: 2017 AGM
Following the EAOA 2017 AGM held on held on 9th July, here are the draft Minutes, the amended Constitution and the Chair's report.
9th July 2017: Bill Stevens Trophy 2017
Congratulations go to Andrew Elliott of SUFFOC who was presented with the Bill Stevens Trophy.
This trophy is awarded annually to someone who has contributed greatly to orienteering in East Anglia, often by working in the background, & Andrew has been the EAOA treasurer for some time.
3rd July 2016: 2016 Annual General Meeting
The minutes are now online.
The Chairman Paul Beckett has agreed to remain as Chair for a further year.
16th November 2015: BSOC 2015
From Barbara Beckett, BSOC 2015 Organiser ... A HUGE thank you to all the EAOA members (including a special thanks to the EA Junior Squad) who helped to make this weekend a success. I did try to speak to you all individually at some point over the weekend, but I know that I missed seeing some of you, so please accept this as a personal "thank you". Also, Paul Beckett, Chair of EAOA, joins with me in thanking you on behalf of the EAOA Committee. Without the help of "an army" of volunteers these national orienteering events, which encourage young people to enjoy taking part in sport and enable them to meet competitors from all over the country, would not take place.
My Inbox is already filling up with emails; the following are just a few: "Thank you, it was a great day out. Fun courses and a lovely setting." ... "Just a quick thanks to you and your army of helpers for your efforts over the weekend.... and as organiser thanks for the dry weather. Other than getting the controls in the right place its the bit everyone remembers most!" ... "It was lovely to have properly planned courses in such a lovely area."
See BSOA website for plenty of photos. Thanks again, Barbara
11th August 2015: Congratulations ...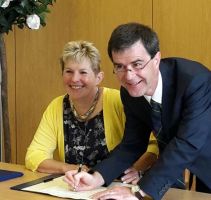 Congratulations to EAOA Chair and Secretary, Paul and Barbara who were married in Inverness on 4th August - rest day of the Scotish 6 Day. It was a lovely day of celebration with their orienteering friends.
Site maintained by Helen Nisbet on behalf of EAOA. Page last updated on 24th July 2017 at 8:43pm