News
This section will keep you up to date with the latest happenings in the world of East Anglian orienteering.
Entries to show: all recent
Nov 06 Apr 07 Jun 07 Dec 07 Dec 08 Mar 09 May 09 Jul 09 Sep 09 Oct 09 Dec 09 Jan 10 Feb 10 Mar 10 Jul 10 Apr 11 Jun 11 Oct 11 Nov 11 Dec 11 Apr 12 May 12 Jun 12 Jul 12 Aug 12 Sep 12 Oct 12 Jul 13 Aug 13 Sep 13 May 14 Jul 14 Jul 15 Aug 15 Nov 15 Jul 16 Jul 17 Dec 18 Jul 19 Feb 21 Oct 21 Dec 21 Sep 22 Oct 22 Jun 23
19th June 2023: 2023 AGM
The EAOA AGM will take place online on Wednesday 21st June at 7.30. Those wishing to attend should contact the Chair for the Zoom link. Links here for the Agenda and the Minutes of the 2022 AGM.
3rd October 2022: East Anglian School Champs 2022
On 2nd October SUFFOC hosted the 2022 East Anglian Schools Champs - the previous one was in 2019. Over 35 school pupils from 12 schools took part. A full report can be found on our schools page. on the SUFFOC website.
25th September 2022: Bill Stevens Trophy 2022
This year the Bill Stevens Trophy was awarded to Freya Askham for her efforts in organising the 2021 British Middles Champs on behalf of the region. Since it is difficult to pass on an actual trophy via a zoom meeting link, Freya (pictured left) had to wait until SMOC's Milton Keynes event on 25th September, where she was officiating as controller, to receive this well-deserved item.
8th December 2021: Anne Braggins RIP
We are all sad to hear that Anne passed away on 27th November. Outside our region, Anne is mostly known for championing TrailO. It is down to Anne that TrailO is established as a recognised discipline within the sport of orienteering both nationally and internationally. In addition to this Anne helped create the East Anglian Regional Association and was chair of the region in the 1980's. Anne coordinated the 1986 JK held in our region, at Thetford Warren. She went on to become chair of the British Orienteering Federation between 1989 and 1992. A wealth of detail on Anne's achievements can be found in the obituary recently published on the BO website.
Although not an active competitor, Anne continued to be a presence in the sport, remaining a member of WAOC, representing TrailO on the EAOA committee, and organising TrailO events as part of the JK and more locally at WAOC events.
She continued to act as an on the day helper at our higher profile events until recently. Our best wishes go to her friends and family.
11th October 2021: EA Champs presentations
Mini-presentations were held at both events of the Autumn in Anglia weekend, to award the East Anglian Championship trophies from HAVOC's Championship event at Epping a couple of weeks earlier. Photos of some of the category winners with their trophies are shown below.
In addition to the EA Champs trophies, two additional awards were presented: Sarah Mansel of SUFFOC, who happened also to be the planner of the Bury St Edmunds event, received the Bill Stevens trophy for contribution to orienteering in the region, and Kate Jarrett was awarded the Joan George award for best performance at the EA Championships.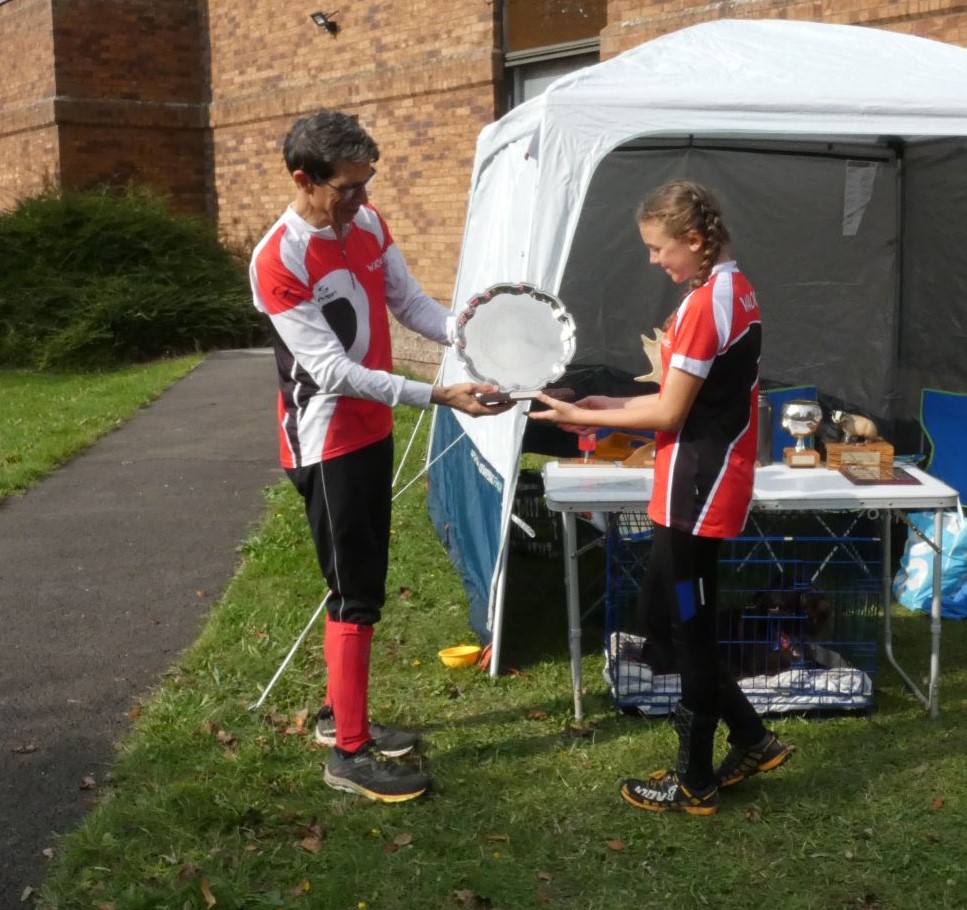 Site maintained by Helen Nisbet on behalf of EAOA. Page last updated on 19th June 2023 at 9:34am