News
This section will keep you up to date with the latest happenings in the world of East Anglian orienteering.
Nov 06 Apr 07 Jun 07 Dec 07 Dec 08 Mar 09 May 09 Jul 09 Sep 09 Oct 09 Dec 09 Jan 10 Feb 10 Mar 10 Jul 10 Apr 11 Jun 11 Oct 11 Nov 11 Dec 11 Apr 12 May 12 Jun 12 Jul 12 Aug 12 Sep 12 Oct 12 Jul 13 Aug 13 Sep 13 May 14 Jul 14 Jul 15 Aug 15 Nov 15 Jul 16 Jul 17 Dec 18 Jul 19 Feb 21 Oct 21 Dec 21 Sep 22 Oct 22 Jun 23
11th October 2021: EA Champs presentations
Mini-presentations were held at both events of the Autumn in Anglia weekend, to award the East Anglian Championship trophies from HAVOC's Championship event at Epping a couple of weeks earlier. Photos of some of the category winners with their trophies are shown below.
In addition to the EA Champs trophies, two additional awards were presented: Sarah Mansel of SUFFOC, who happened also to be the planner of the Bury St Edmunds event, received the Bill Stevens trophy for contribution to orienteering in the region, and Kate Jarrett was awarded the Joan George award for best performance at the EA Championships.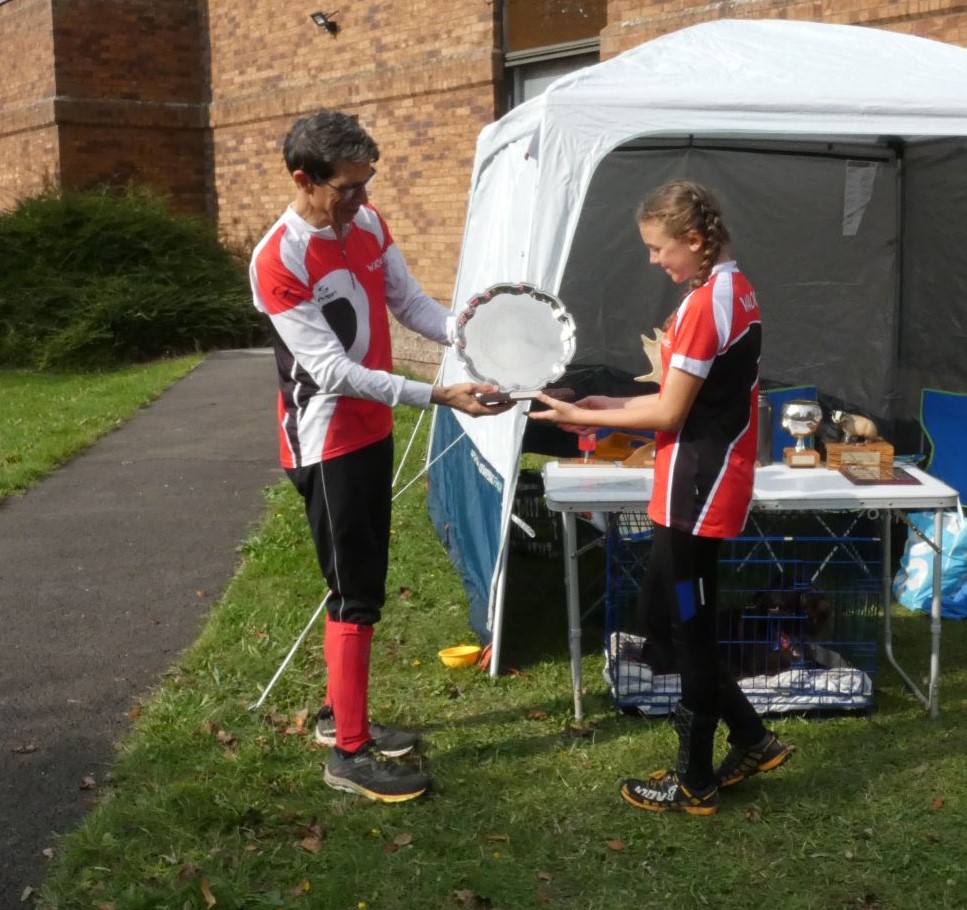 7th October 2021: East Anglian Championships 2021
The East Anglian Championships 2021 were held at HAVOC's event in Epping South West on 26th September, where orienteers of all age classes were competing with their peers in the region to be the champion in their age class, or outright winner. Congratulations to all the class winners. Trophies will be presented at the Autumn in Anglia event at Bury St Edmunds on 10th October. If you are going to this event, we hope you will attend the presentation and applaud the recipients.
Full results can be viewed on the HAVOC website, and the list of current and past East Anglian Champions is available here.
Due to an unfortunate side effect of various events having been rescheduled as the orienteering calendar returns to normal, the championships were on the same date as at the Junior Inter-Regional Championships (JIRCS). The JIRCS took place near Redcar in the north-east of England, where the East Anglian Junior Squad, representing their region in a combination of individual and team competitions, secured a very creditable 6th place overall. Congratulations to the junior team and to Sally and Clive Wilkinson, whose coaching and enthusiasm helped produce this result.
Site maintained by Helen Nisbet on behalf of EAOA. Page last updated on 19th June 2023 at 9:34am