News
This section will keep you up to date with the latest happenings in the world of East Anglian orienteering.
Entries to show: all recent
Nov 06 Apr 07 Jun 07 Dec 07 Dec 08 Mar 09 May 09 Jul 09 Sep 09 Oct 09 Dec 09 Jan 10 Feb 10 Mar 10 Jul 10 Apr 11 Jun 11 Oct 11 Nov 11 Dec 11 Apr 12 May 12 Jun 12 Jul 12 Aug 12 Sep 12 Oct 12 Jul 13 Aug 13 Sep 13 May 14 Jul 14 Jul 15 Aug 15 Nov 15 Jul 16 Jul 17 Dec 18 Jul 19 Feb 21 Oct 21 Dec 21 Sep 22 Oct 22 Jun 23
19th June 2023: 2023 AGM
The EAOA AGM will take place online on Wednesday 21st June at 7.30. Those wishing to attend should contact the Chair for the Zoom link. Links here for the Agenda and the Minutes of the 2022 AGM.
3rd October 2022: East Anglian School Champs 2022
On 2nd October SUFFOC hosted the 2022 East Anglian Schools Champs - the previous one was in 2019. Over 35 school pupils from 12 schools took part. A full report can be found on our schools page. on the SUFFOC website.
25th September 2022: Bill Stevens Trophy 2022
This year the Bill Stevens Trophy was awarded to Freya Askham for her efforts in organising the 2021 British Middles Champs on behalf of the region. Since it is difficult to pass on an actual trophy via a zoom meeting link, Freya (pictured left) had to wait until SMOC's Milton Keynes event on 25th September, where she was officiating as controller, to receive this well-deserved item.
8th December 2021: Anne Braggins RIP
We are all sad to hear that Anne passed away on 27th November. Outside our region, Anne is mostly known for championing TrailO. It is down to Anne that TrailO is established as a recognised discipline within the sport of orienteering both nationally and internationally. In addition to this Anne helped create the East Anglian Regional Association and was chair of the region in the 1980's. Anne coordinated the 1986 JK held in our region, at Thetford Warren. She went on to become chair of the British Orienteering Federation between 1989 and 1992. A wealth of detail on Anne's achievements can be found in the obituary recently published on the BO website.
Although not an active competitor, Anne continued to be a presence in the sport, remaining a member of WAOC, representing TrailO on the EAOA committee, and organising TrailO events as part of the JK and more locally at WAOC events.
She continued to act as an on the day helper at our higher profile events until recently. Our best wishes go to her friends and family.
11th October 2021: EA Champs presentations
Mini-presentations were held at both events of the Autumn in Anglia weekend, to award the East Anglian Championship trophies from HAVOC's Championship event at Epping a couple of weeks earlier. Photos of some of the category winners with their trophies are shown below.
In addition to the EA Champs trophies, two additional awards were presented: Sarah Mansel of SUFFOC, who happened also to be the planner of the Bury St Edmunds event, received the Bill Stevens trophy for contribution to orienteering in the region, and Kate Jarrett was awarded the Joan George award for best performance at the EA Championships.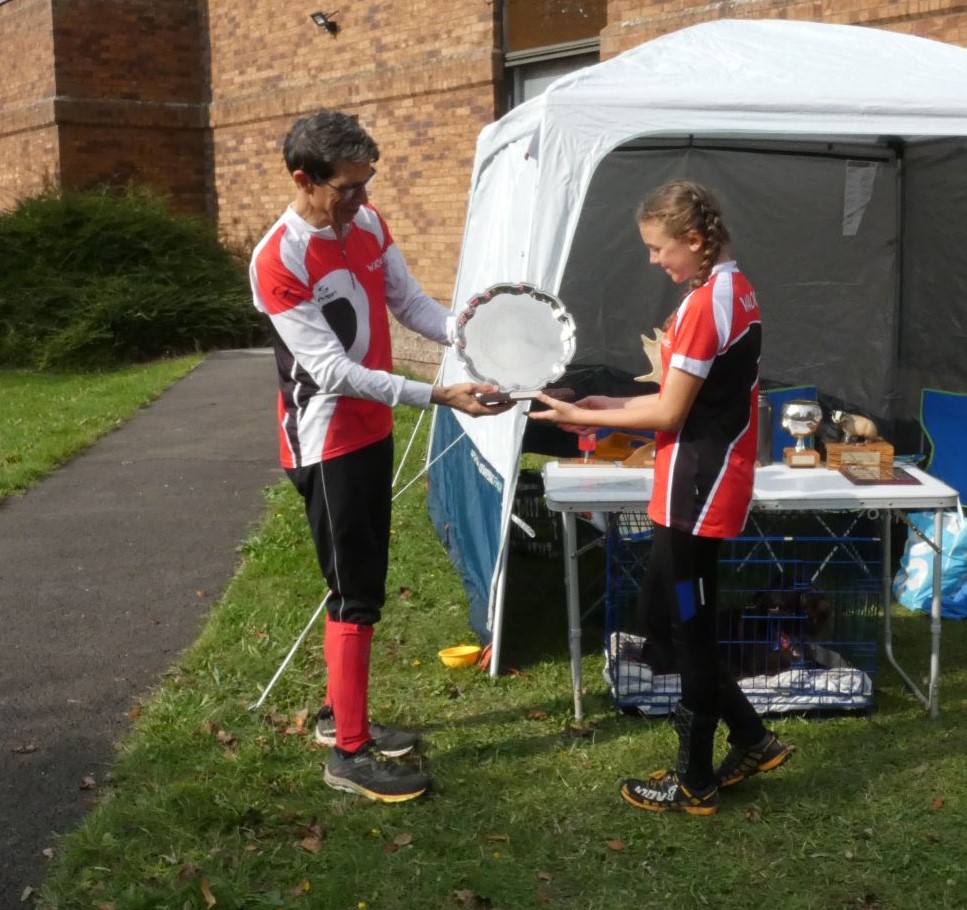 7th October 2021: East Anglian Championships 2021
The East Anglian Championships 2021 were held at HAVOC's event in Epping South West on 26th September, where orienteers of all age classes were competing with their peers in the region to be the champion in their age class, or outright winner. Congratulations to all the class winners. Trophies will be presented at the Autumn in Anglia event at Bury St Edmunds on 10th October. If you are going to this event, we hope you will attend the presentation and applaud the recipients.
Full results can be viewed on the HAVOC website, and the list of current and past East Anglian Champions is available here.
Due to an unfortunate side effect of various events having been rescheduled as the orienteering calendar returns to normal, the championships were on the same date as at the Junior Inter-Regional Championships (JIRCS). The JIRCS took place near Redcar in the north-east of England, where the East Anglian Junior Squad, representing their region in a combination of individual and team competitions, secured a very creditable 6th place overall. Congratulations to the junior team and to Sally and Clive Wilkinson, whose coaching and enthusiasm helped produce this result.
18th February 2021: Let's (socially) dist again
Read Peter Wood's (WAOC) article describing how WAOC was able to adapt their event organisation in line with British Orienteering's guidelines, to allow their events to proceed safely and meet the legal social distancing regulations then in place. In addition to the technical aspects, the organisers needed to consider questions which don't normally arise, around who gets to come to the event, given demand was likely to greatly exceed capacity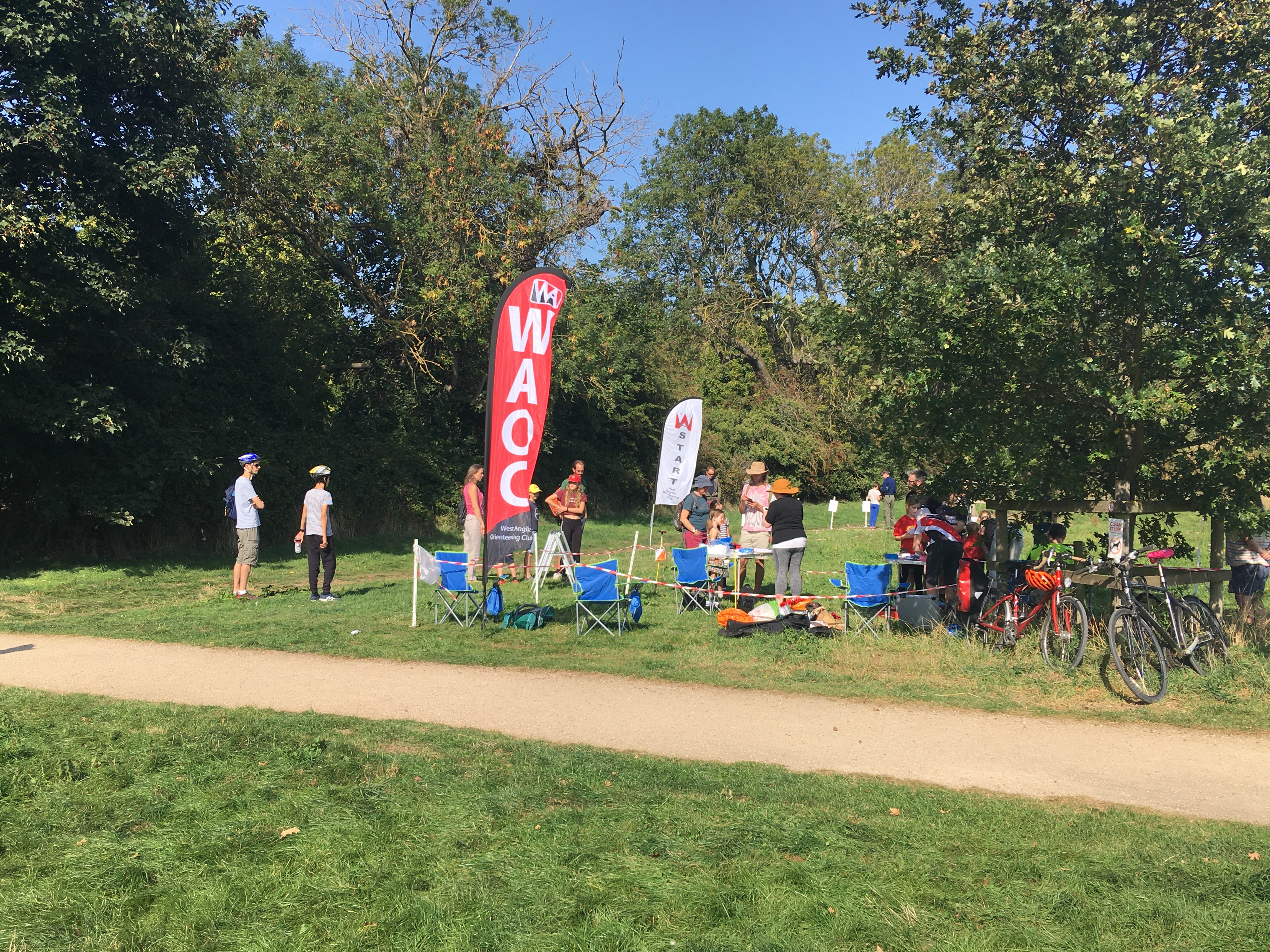 14th July 2019: Yvette Baker Final 2019
Congratulations to Essex Stragglers, whose junior team have won the Yvette Baker Shield for 2019. They competed against teams from Mole Valley, Pendle Forest, Harlequins and Lincoln Orienteering Group at the national final, which was organised by EAOA and held at Sandringham Country Park on 7th July.
This is the first time an East Anglian club has won the YB shield, which has been introduced into the Yvette Baker competition for smaller clubs, in addition to the original Yvette Baker Trophy. As well as the shield teams, there were ten clubs at Sandringham competing for the trophy, including a team from WAOC. The trophy was won by juniors from South Yorkshire orienteers, with Southdowns Orienteers second and Happy Herts in third place.
The event was planned by Paul Beckett of HAVOC, and the organiser was Peter Woods of WAOC. The on-the-day team included helpers from NOR, WAOC and HAVOC with download operated by SUFFOC. Sarah Mansel of SUFFOC, as YBTS coordinator, liaised with the various clubs as they prepared their teams for entry in the final. We are grateful to the controller, Andrew Evans of DFOK, for his assistance in making the event a success, especially given the long distance to Sandringham from his home territory.
Full results and links to photos can be found on the WAOC website.
Photos by Will Heap and Robert Lines respectively
5th December 2018: Courses for 2019
Controller's Courses
Next March, we are planning to provide on one-day courses for Level C and Level B controllers respectively. The Level C course, to be held on Saturday 9th March, will give attendees the qualification needed to apply to BO to be a recognised Level C controller (You will also need to have requisite experience of planning and organising Level C events to become a controller). The Level B course, to be held on Saturday 30th March, is intended for Level C controllers to allow them to become Level B controllers.
These courses will both be run by Michael Chopping of NOR and Keith Downing of SMOC. Both courses are open to attendees from other regions subject to places being available. At the time of posting, places are available on both courses. If you are interested in attending and have not already contacted us, please let us know by contacting your EAOA rep or anyone on the committee.
UKCC Level 2 Certificate in Coaching Orienteering
On Saturday 2nd March and Saturday 9th March there will be a Level 2 Course (with a further assessment day on 23rd March) for those of you who would like to gain the qualification in Coaching Orienteering. The course will take place at Wandlebury Country Park near Cambridge.
The cost of the course will be £450 to £500 depending on the number of participants. The EAOA and your clubs may be able to support this providing you are willing to undertake coaching for the region's juniors.
If you wish to participate in the course, please contact Caroline Louth at equipment@waoc.org.uk and she will send you further details and a registration form. Initial expressions of interest by 15th December please with firm commitments by 2nd January - British Orienteering have a long lead-time to order resource packs for the course.
Again, there may be spaces available for candidates from outside the region.
9th July 2017: Bill Stevens Trophy 2017
Congratulations go to Andrew Elliott of SUFFOC who was presented with the Bill Stevens Trophy.
This trophy is awarded annually to someone who has contributed greatly to orienteering in East Anglia, often by working in the background, & Andrew has been the EAOA treasurer for some time.
3rd July 2016: 2016 Annual General Meeting
The minutes are now online.
The Chairman Paul Beckett has agreed to remain as Chair for a further year.
16th November 2015: BSOC 2015
From Barbara Beckett, BSOC 2015 Organiser ... A HUGE thank you to all the EAOA members (including a special thanks to the EA Junior Squad) who helped to make this weekend a success. I did try to speak to you all individually at some point over the weekend, but I know that I missed seeing some of you, so please accept this as a personal "thank you". Also, Paul Beckett, Chair of EAOA, joins with me in thanking you on behalf of the EAOA Committee. Without the help of "an army" of volunteers these national orienteering events, which encourage young people to enjoy taking part in sport and enable them to meet competitors from all over the country, would not take place.
My Inbox is already filling up with emails; the following are just a few: "Thank you, it was a great day out. Fun courses and a lovely setting." ... "Just a quick thanks to you and your army of helpers for your efforts over the weekend.... and as organiser thanks for the dry weather. Other than getting the controls in the right place its the bit everyone remembers most!" ... "It was lovely to have properly planned courses in such a lovely area."
See BSOA website for plenty of photos. Thanks again, Barbara
11th August 2015: Congratulations ...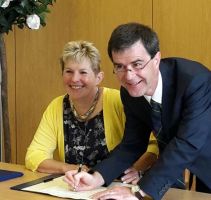 Congratulations to EAOA Chair and Secretary, Paul and Barbara who were married in Inverness on 4th August - rest day of the Scotish 6 Day. It was a lovely day of celebration with their orienteering friends.
12th July 2015: 2015 Annual General Meeting
The minutes and Chairman's report are now online.
The Chairman presented the trophy to Nancy Powell Davies (SOS) in recognition of her valuable assistance over many years as examiner of EAOA's accounts, and also in recognition of her role of official at many SOS Relays, which have hosted the EAOA AGM on several occasions and are also a sociable summer event which bring together the EAOA Clubs in friendly competition.
20th July 2014: 2014 Annual General Meeting
At the EAOA 2014 AGM Chairman Paul Beckett awarded the Bill Stevens Trophy to Clive Wilkinson (SUFFOC). Paul awarded the trophy in recognition of Clive's work on behalf of orienteering in EAOA in particular for his work with the EA Junior Squad.
The minutes and Chairman's report are now online.
18th May 2014: EA Champions
Jack Isbester (SOS) received his EA Championships M80 trophy from EAOA Chairman Paul Beckett at the SOS event at Danbury on 18th May.
As we now have competitive orienteers in the M/W80 class new trophies had to be purchased. The W80 winner is Barbara George (NOR) who will be presented with her trophy in the near future.
11th May 2014: East Anglian Schools Championships
The East Anglian Schools Championships took place at Hadleigh Country Park on Sunday 11th May. Around 75 competitors from schools across the region took part in the event in an area partly used for the Olympic Mountain Biking in 2012.
St Andrew's were victorious in the primary school categories with Barnaby Gough winning Gold, Zac Poter Silver and Liam Polley Bronze in the Primary Boys category and Zoe Hartnup winning Gold, Evie Amos Silver and Amy Skeet 4th in Primary Girls.
Hedingham School year 9/10 Boys were Gold medal winners with an individual Silver medal for Josh Partridge, Bronze for John-Henry Love and Joseph Powers 6th.
It was a clean sweep for Hedingham School in both the year 7/8 and 9/10 Girls categories with Chloe Cracknell winning Gold, Victoria Love Silver and Cerys Wrigley Moss Bronze in year 7/8. Daisy Partridge was Gold medalist running up in the year 9/10 girls category with Laura Smith taking Silver and Harriet Vinter Bronze.
Callum Turner from Ramsey Academy was the individual Gold medalist in the year 9/10 boys category.
The overall result was incredibly close this year with the E A Schools Championship trophy being shared by Hedingham School and St Andrew's Primary School with Barnardiston Prep in third, Kings College School 4th and Brentwood School 5th.
Results are here www.orienteering-havoc.co.uk
EAOA Schools Championships 2014
Primary (Year 6 and under) White Course
Girls 1 Zoe Hartnup (St Andrews) 2 Evie Amos (St Andrews) 3 Alesha Lowe (Stowmarket Middle) Team Winners: St Andrews (Zoe Hartnup + Evie Amos + Amy Skeet)
Boys 1 Barnaby Gough (St Andrews) 2 Zac Poter (St Andrews) 3 Liam Polley (St Andrews) Team winners: St Andrews (Barnaby Gough + Zac Poter + Liam Polley)
Years 7 and 8 Yellow Course
Girls 1 Chloe Cracknell (Hedingham) 2 Victoria Love (Hedingham) 3 Cerys Wrigley-Moss (Hedingham) Team winners: Hedingham (Chloe Cracknell + Victoria Love + Cerys Wrigley-Moss)
Boys 1 Matthew Clarke (Barnardiston) 2 Alexander Parker (Barnardiston) 3 Edward Low (Kings College) Team winners: Barnardiston (Matthew Clarke + Alexander Parker + Tom Steed)
Years 9 and 10 Orange Course
Girls 1 Daisy Partridge (Hedingham) 2 Laura Smith (Hedingham) 3 Harriet Vinter (Hedingham) Team winners: Hedingham (Daisy Partridge + Laura Smith + Harriet Vinter)
Boys 1 Callum Turner (Ramsey Academy) 2 Josh Partridge (Hedingham) 3 John-Henry Love (Hedingham) Team winners: Hedingham (Josh Partridge + John-Henry Love + Joseph Powers)
Years 11 and above Light Green Course
Girls 1 Rhiannon Ware (CCHS)
Boys 1 Bryn Wilkinson (Copleston High) 2 Callum Turner (Ramsey Academy)
OVERALL SCHOOLS CHAMPIONSHIPS (Best four positions to count)
Joint First with 6 points (two first and two second places) each: St ANDREW'S PRIMARY SCHOOL and HEDINGHAM SCHOOL & SIXTH FORM Third with 13 points: BARNARDISTON HALL PREP SCHOOL 4th KING'S COLLEGE SCHOOL (17 points) 5th BRENTWOOD SCHOOL (26 points)
1st May 2014: TrailO at the JK2014 in Wales, a big thank you
The TrailO competitions on Good Friday and Easter Sunday could not have been the success that they were without the many EAOA members and friends who gave up time to work on the essential elements of an event on those days, especially Tony and Janet Biggs who came both days and did an excellent job in producing the results.
I suspect that everyone will remember the weather on Sunday for many years, with the lightening strike and coming through the eerie canyon in the fog. I am most grateful to all who where there from EAOA and the Royal Signals team who put out all the course, luckily the preparation worked and there were no location problems, just that fog!
You all made it a success and have the thanks of all the competitors who were able to complete their course, I regret that the helpers did not as they returned to duty. Most of the EOD entry thought better about the long walk to find us, due to the nesting peregrine falcons, and the weather so some had less to do than envisaged. You may be surprised to learn that Dick and I thought the day warm compared with our previous visits.
Anne Braggins
1st September 2013: John T Ward, EAOA Chairman 2010 - 2013
At their meeting on 17 May 2013 members of the EAOA Committee reflected on their personal memories of John who died on 9 May, and recorded their appreciation of the huge contribution which John made to orienteering in East Anglia. John's funeral was held on 22 May and was attended by many friends in the orienteering community. John will be missed as friend, mentor, Mapper, Planner, Controller and as a talented orienteer.
31st August 2013: EA Schools Championship 2013
The Hedingham School Orienteering team finished the season with some fantastic results in the East Anglian Schools Championships. The year 9/10 boys team were gold medal winners in their category with an individual silver medal for Josh Partridge, Bronze for Ollie Smith and John-Henry Love in 6th place. The year 7/8 girls category was fiercely contested with Chloe Cracknell the victorious gold medalist, Chloe Plumb 6th and good runs from Lily Amos and Olivia Baldwin. Daisy Partridge was gold medalist running up in the year 9/10 girls category. There were tense moments whilst the overall school results were calculated, three teams were within just 1 point of taking the title. Hedingham School with two firsts, a second and a third place were finally declared the East Anglian Schools Champions and were presented with the trophy with Barnardiston in second and The Perse third.
7th July 2013: EAOA AGM
Following the AGM here are the Minutes and the Chairman's Report.
16th October 2012: Tom Hemingway's Report from Kincraig 2012
On the 4th August this year, eleven boys and thirteen girls in the W/M16 age category travelled North to the Cairngorms in Scotland to take part in the Kincraig Summer Training Camp. A week of improving technical ability, fitness and fun was in store for the athletes, most of whom had already been to the Lagganlia tour one or two years previously. Read Tom's full report here ...
21st September 2012: Community Orienteering Leader course
This 1 day Community Orienteering Leader Award introduces candidates to the knowledge, understanding and practical ability to lead Community Orienteering club nights safely. This award will therefore enable candidates to deliver activities and be capable of instructing and supervising a group safely and support the Community Orienteering Programme (according to British Orienteering guidelines). No experience of orienteering is necessary.
Courses are due to be held in South Northampton in late 2012 and Ipswich in early 2013. See course overview.
EAOA Club members might be interested in attending these courses as by taking part you will be insured to lead club night sessions
5th September 2012: Support for Club Officials
British Orienteering have a new programme to support Club Officials is in place called Club Leaders. Read about it here.
29th August 2012: Club & Association Conference 2012
A Conference of Association and Club representatives will be held on Saturday 20 October 2012 at Sheffield Hallam University. The conference starts at 10:45 for an 11:00 start and will finish at 5.00pm. Invites extend to up to 2 members of each club and association that are chosen (by the club or association) to represent their views.
The Conference Papers are attached here - there are a variety of important and strategic matters and the aim of the Conference is for clubs and associations to make their views known on these matters. Members should read and discuss within their Clubs and the EAOA Committee will also be discussing these issues at their next meeting on 14 September and will be seeking delegates to attend.
9th July 2012: EAOA Annual General Meeting
The EAOA AGM was held on 1 July at Norwich. The minutes of the 2012 AGM are here and Chair's Report here.
12th June 2012: BOF 2013 Membership Scheme
Details of the new 2013 Membership Scheme as adopted at the 2012 British Orienteering AGM can be found here.
7th June 2012: EAOA host JIRC
Our region is hosting the Junior Inter Regional Competition at Sandringham on 23rd and 24th June. Entries are now in from the 12 regions and EAOA is looking forward to welcoming the 12 teams and over 200 competitors to Sandringham for the individual competition on the Saturday followed by the relays on Sunday. JIRC results and RouteGadget will be available on the NOR website.
18th May 2012: EA Schools Championships
The results of the 2012 EA Schools Championships at Hylands Park on Sunday 13th May 2012 are here.
4th May 2012: Peter Leverington awarded the Chichester Trophy
Congratulations to Peter Leverington of NOR who has been awarded the Chichester Trophy for mapping, for his map of Sheringham Park, Weybourne, which was used for the Midland Champs - see BOF website.
4th May 2012: David Maliphant elected as a BOF Director
Congratulations to David Maliphant of CUOC/BOK on his election as a BOF Director. As well as being a BOK member, David is also an active member of CUOC.
18th April 2012: What would you do if you found somebody unconscious in the forest?
On 7th April, at a large Orienteering Event in Highland Perthshire (JK), I thought my biggest challenge would be improving the pace at which I could accurately complete my course. However, about 15 minutes into my run a much greater challenge came into view. Two other orienteers had just found a young competitor lying unconscious on the forest floor... read the full article here.
2nd December 2011: Success at the British School Orienteering Championships
The British School Orienteering Championships took place over the weekend of the 19th and 20th November 2011 at Beecraigs Country Park. Linlithgow. 72 different schools took part, travelling from Aberdeen in the North to Torquay in the South.
Winners of the Whole School Team were Barnardiston Hall Prep School from Suffolk. The four competitors who counted in the results were Christopher Jobe, Holly McGerty, Matthew Clarke and Timmy Harrison.
In the Primary School competition St. Andrews Primary School from Halstead came third in class. The four counting competitors being Jack Edwards, Chloe Cracknell, Lily Amos and Dominic Emmerson.
Congratulation to all who took part from East Anglia!
Special thanks go to the The Scottish Schools' Orienteering Association who in conjunction with Biggar High School, LINOC and TINTO, and with the additional support of Scottish Clubs organised the whole weekend. Results and photos can be found www.bsoa.org. A full report of the event is due to appear in the next issue of Focus.
15th November 2011: CompassSport Cup and Trophy
The Region will be holding a heat of the CompassSport Cup and Trophy at Thetford Warren on the 19th February 2012.
Club Captains should look at the BOF Home Page in the News Headlines column on the right for links to details. A flyer with details of courses, cost and how to enter the EAOA round etc. will be posted shortly on the website.
14th November 2011: EA League Prizegiving
The prize giving for the 2011 League winners will be held at the EA Championship event on 15th January 2012 - Lyndford near Thetford.
Can previous EA Championship winners please return their trophies before or at the above event.
1st October 2011: Bryn Wilkinson's Report from Lagganlia 2011
I will start off by saying that this was one of the best weeks I have ever had. I was nervous beforehand. I didn't know anyone and I wasn't sure whether I would enjoy it. But after the first evening, playing football with everyone, I suddenly realised what a great week this would be.
On Sunday we were focusing on pacing and bearings. Now I have to admit that I don't use either on a normal green course in East Anglia but in Scotland you really need them. When you are training on a certain thing, you really have to concentrate on doing that and not use the technique that you might normally use for that leg. If you treat it like a normal race you won't get better at the technique you should be developing. In the afternoon we did a short course and a fun clock relay. A clock relay is where there are three in team and each team has a toy. The first person takes the toy out to the first control and comes back. The next person takes the toy from that control to the next one. It keeps going like this until you get back to your first control and the last person brings it back to the start. When we got back to the camp we did some fun races, like piggy back races and shuttle runs. Read full report here ...
18th June 2011: 2011 EAOA AGM - Minutes and Constitution
The Minutes from the 2011 AGM are now available online along with the newly adopted Constitution.
16th April 2011: EA Schools Championships
The 2011 East Anglian Schools' Orienteering Championships will take place on 22nd May in Highwoods Country Park, Colchester. Flyer.
The event combines a normal colour coded plus the EA Schools Championship and the final round of this year's ESSOL. Links to: details, entry form and rules.
24th July 2010: Minutes of the 2010 EAOA AGM
Find attached the minutes of the EAOA AGM held on 11 July 2010 at Hylands Park, Chelmsford.
11th July 2010: EA League Club Championship Winners
Congratulations to SUFFOC.
The EA League Club Championship for 2009 resulted in a win for SUFFOC. The presentation of the banner was made by the EAOA Chairman, Caroline Louth, to Paul Lowe of SUFFOC at the AGM held on the 11th July 2010 at Hylands Park.
The Club Championship is based on the total points scored by each club's competitors in all rounds - divided by the capitation figure. This results in the following:- SUFFOC 194 , SOS 142 , WAOC 139 , HAVOC 95 , NOR 92 and SMOC 27.
Tony Biggs - EA League co-ordinator
16th March 2010: East Anglian Orienteering Association Championships
SOS hosted the EAOA Championships at the weekend at Donyland Woods and Middlewick Ranges. Congratulations to all the winners - see list.
A full list of past EA Champions is here and the full results can be found on the SOS website.
5th February 2010: 2009 EA League Prizes
The majority of the prizes for the winners of the 2009 League were given out last Sunday, 31st January, at Warren Wood. However I still have some left to present. I also have enough left to present one each to the planners of the 2009 events for their hard work in putting on the competition. I will be at both of the Single Dumpling and Punch events on the 13th and 14th February. If you have not received your prize please try to catch up with me there.
Tony Biggs
24th January 2010: Compass Sport Cup - Results
The results of the Compass Sport Cup and Trophy Qualifier Round at Shouldham Warren are available here, plus links to Splitsbrowser, Routegadget, String Course and photos.
9th December 2009: Grade 3 Planners Course
Janet Biggs is holding a Grade 3 Planners course on 6th and 20th March 2010. Outline information about the course is available here. It will follow the BOF syllabus and include a session on OCAD course setting and using SI equipment.
5th December 2009: EA League Prize Giving 2009
The prize giving will be held on Saturday 30th January 2010 - day 1 of the Thetford Thrash weekend. The event is hosted by CUOC at Brandon Country Park and is the annual Icenian Trophy competition as well. It is intended that the Prize giving ceremony will start at 13:30.
This is earlier than in past years when the prize giving has been held at the AGM and few of the winners have been present. Hopefully most, if not all, winners will be present on the Saturday - however if there are some of you who can only make the Sunday event instead, then arrangements will be made to present the trophies then. Please let me know if it affects you.
Tony Biggs
7th October 2009: New fixture added to EA League
An extra fixture has been added to the EA League - the WAOC event at Mildenhall on the 25th October.
This additional event is to allow those who felt disadvantaged at Roman Valley or those members of SOS who will miss out at Weald Park to have a further chance to score points. There were only 6 events scheduled this year after the CUOC event was excluded due in the end to the entries being closed.
The Mildenhall event is a round of the Yvette Baker competition which involves the Juniors in the region - hence only the Senior competitors will be eligible to score points - M/W21 and above.
24th September 2009: Junior Inter-Regional Championships, Northern Ireland, September 2009
Read a report from Sophie Louth on the JIRC event in September.
23rd September 2009: Minutes of the 2009 AGM
The minutes from the AGM held at Taverham Hall, Norwich on 12th July 2009 are available online.
22nd September 2009: The EA League Champion Club
At the AGM, SUFFOC were presented with the brand new sail banner for becoming the EA League Champion Club for 2008. This is first time that a League Champion Club has been declared.
19th July 2009: Keith Downing awarded the Bill Stevens Trophy
When we formed SMOC in 1987 most of us had only competed in one or two events and therefore the experience of Roger Cole, Stan Holroyd and Keith Downing was essential. Keith became our first secretary, edited the newsletter (and wrote most of it).
We learned that Keith had orienteered since 1967 as a school boy using photocopied ordnance survey maps on which he failed to copy his course, but still managed to come third by following. Most of us don't follow that well! Keith obviously had a spirit of adventure as he went on to orienteer across England, and by the time SMOC had formed, across Europe. I can remember being very impressed that somebody should travel all the way to Estonia to get lost in a forest.
From memory and a skim through old SMOC Signals, as well as being secretary and newsletter editor, Keith has been our club chairman as well as organising and planning more club O events than I could account for, most noticeably planning the 2006 British Sprint Orienteering Championship. He was on the earliest mapping groups, helped organise and participated in the first Greensand team for the Club. He has encouraged lesser orienteers to spread their wings and go to the Scottish 6 day, Keith has always been willing to step into the breach and has the honour of being the only person to have been SMOC's chair more than once.
Keith has just been awarded the Bill Stevens Trophy. This is given each year to somebody deemed to have made a significant contribution to the East Anglian Orienteering Association. Keith's contribution goes back 21 years to when he became SMOC's first representative on the EAOA committee. With just a short break he has continued to do this task and contribute to EAOA ever since, in particular as Secretary for 6 years until he stood down at the AGM this year. However, his contribution has gone far beyond this. As well as organising and planning SMOC events, Keith has been a very reliable and prolific controller in the region.
Congratulations, Keith, on being awarded the trophy.
Written by Rachel Thomas and Colin Nicholson (SMOC)
19th May 2009: Rules for the EA Championships
The rules for the East Anglian Championships have been clarified at the last EAOA Committee Meeting. They can be found here.
16th March 2009: Interview with world champion orienteer Graham Gristwood
Following his victory in the 2009 UK Cup competition, an exclusive interview with world champion orienteer Graham Gristwood has been posted the blog of outdoor gear shop CheapTents.com
7th December 2008: OCAD Course
This is a one-day course covering the basics of the OCAD map drawing computer software. The course is aimed at people new to orienteering mapping or at people who would like to get into mapping. Also it will be useful to planners who may need to use OCAD for updating maps. This course will not cover the course setting functions of OCAD.
The course will take place on Saturday 10th January 2009 at Weald Country Park, Brentwood. More details available here.
4th December 2007: Bruce Marshall wins Bill Stevens Trophy
At a recent event the chairman Paul Lowe finally caught up with and was able to present this years winner of the Bill Stevens Trophy to Bruce Marshall. Bruce was awarded for all his hard work and dedication in looking after all the regions SI equipment. Following the grant last year, to purchase more equipment, Bruce is now actively managing 2 complete sets which are regularly used through out the region.
20th June 2007: EA Schools Championships results
The 2007 EA Schools Championships took place at High Woods, Colchester on Sunday 17th June. Results on on the SOS website http://www.stragglers.info/event/20070617.php.
7th June 2007: EAOA AGM 1 July after the SOS Relay event
To be held at Danbury Outdoor Centre & Lakes - grid reference TL774053. Details of the relays are on the SOS website http://www.stragglers.info/event/20070701.php.
Agenda
1 Apologies for absence
2 Minutes of previous meeting (available here)
3 Matters arising
4 Chairman's report
5 Treasurer's report – including 2008 fees
6 Election of officers
7 AOB
Keith Downing
EAOA Secretary
25th April 2007: Robert Dove wins mapping award
Robert Dove (SMOC) was awarded the Chichester Trophy at the BOF AGM. The trophy is awarded annually for the best amateur cartography.
Robert received the award for his map of Campbell Park which was used for the 2006 Sprint Championships. The map was stated to be a model of clarity, the first time the International Standards for Sprint Orienteering (ISSOM) had been used in Great Britain.
13th November 2006: Lyn West wins Bill Stevens Trophy

The Bill Stevens Trophy for 2006 was awarded to Lyn West. EAOA Chairman Paul Lowe said that Lyn had been recognised for her contributon to East Anglian Orienteering over recent years. As well as serving as Chairman and Treasurer, Lyn has supported junior orienteering through the Junior Squad and as co-ordinator of The Junior Inter-Regional Championships and the Junior European Cup. Despite her appointment as Vice-Chairman of British Orienteering, he is confident that Lyn will continue to provide invaluable support to orienteering in East Anglia.
Site maintained by Helen Nisbet on behalf of EAOA. Page last updated on 19th June 2023 at 9:34am